Detroit's Catch Basin Repair Company
We are Detroit's Premier Asphalt Maintenance Company.  We are the choice in the Detroit metro area for all your pavement maintenance needs. Let us quote your next project, and let our team of professionals provide quality checked services. 
At ARM Pavement Services, we can handle any size paving and pavement maintenance project from new parking lots, to repaving, seal coating, repairing curbs, patching potholes and line striping.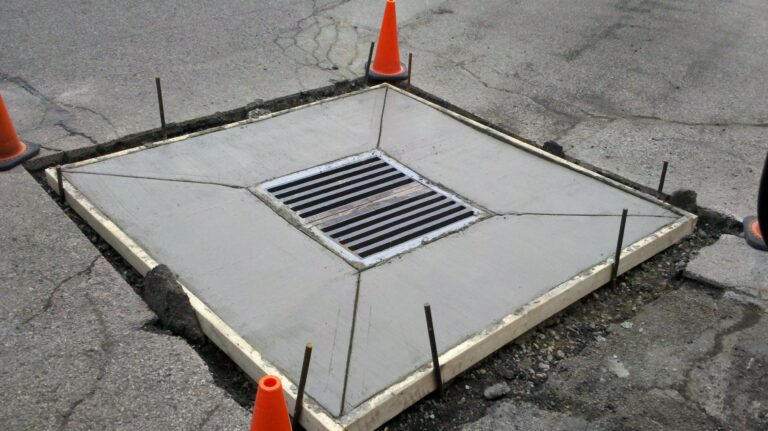 Catch Basin Repair
Catch basins are a critical part of residential and commercial stormwater drainage infrastructure. Catch basins work by allowing solids, debris, and trash to settle to the bottom of the catch basin below the water outlet pipe. This sequestering of debris and trash is a very necessaryfunction. If your catch basins need maintenance or repair, ARM Pavement Services can help.
To combat general wear and tear and help maintain a properly functioning catch basin, you want to employ a professional concrete contractor such as ARM Pavement Services. Catch basins typically need to be repaired periodically as they significantly degrade over time from weathering and general use. We recommend regular evaluations to ensure you are completing the regular maintenance required to minimize replacement cost over time.
At ARM Pavement Services, our primary focus is help you maintain your concrete and asphalt while offering exceptional service along the way. We treat all clients as we would our own family.
Contact the professionals at ARM Pavement Services for all your asphalt needs in the greater Detroit, MI metro area. Click Here for a quote.
Some of the other services we offer include:
Asphalt Repair
Damaged asphalt can be a serious safety and property damage hazard in addition to being unsightly. At ARM Pavement Services, we can patch your pothole, resulting in a safer paved surface.
Concrete Repair
Broken or damaged concrete surfaces are a safety hazard to pedestrians in addition detracting from your property's aesthetic. ARM Pavement Services can repair or replace broken concrete surfaces, making your facility safer and more attractive.
Parking Lot Striping
From laying out new parking lot lines in brand new pavement, to performing touch up maintenance painting, to refreshing the lines in an existing lot, ARM Asphalt Services is your go to provider for your Parking Lot Striping needs.
Paving Services
From new pavement to repaving, from driveways to sidewalks and parking lots, ARM Pavement Services can handle any sized paving project.
We are available 24 hours a day, and 7 days a week. Reach out to us now for a quote for your next pavement paving project.